Family Practice, Obstetrics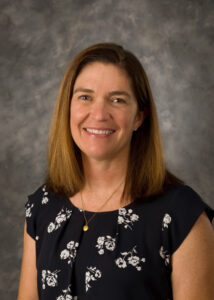 Dr. Shelly was raised in Stockton, Kansas. She is a 1995 graduate from the University of Kansas and a 1999 graduate from the University of Kansas School of Medicine. Dr. Shelly completed her residency at UKSM-W Smoky Hill Family Practice Residency, Salina, Kansas in 2002 in Family Medicine and has been Board Certified since 2002.
Dr. Shelly has practiced in Quinter, Kansas since 2002 as a partner at Bluestem Medical and as a staff member at Gove County Medical Center. She also provides care at Sheridan County Clinic. She is a preceptor for University of Kansas Medical Center in Northwest Kansas preceptorship program and other rural programs associated with medical education in this area. She regularly mentors and teaches 1st-4th year medical students and pre-med students. Dr. Shelly received the 2010 Doug Parks, MD Community Preceptor Teaching Award. She is active on the KAFP Foundation Board and is also a member of the KU Medical Alumni Board.
Dr. Shelly and her husband, Dr. Doug Gruenbacher have four children and are involved in various youth sports, church, 4-H and many other community events. They were a vital part in the building of a community wellness center that supports their love of exercise and pursuit of advocating healthy lifestyles. Dr. Shelly is an avid KU fan and also enjoys running and skiing.